As some of you may know, Maxis has ended its 1 year exclusive deal of iPhone with Apple. You may now get an iPhone from another telco which apparently offers the iPhone + package at a cheaper rate.

iPhone Doraemon Theme zomGGGG – picture credit to yumixpeach
The other telco's cheapest plan of RM88 per month, comes with 1GB of data, 200 voice minutes and SMS each. On the other hand, the cheapest Maxis iPhone plan is the iValue 1 plan which costs RM100 per month and comes with 500mb of data, 333 voice minutes and 100 SMS. The other telco's plan is RM12 cheaper than iValue 1 plan. However, does this means that the other telco's plan is more value than Maxis'?
For the lowest plans, you will notice that the other telco will give you more data transfer. However, Maxis gives free local calls and SMS between family lines and more minutes. More minutes means you will not be charged extra until you utilize the minutes given.
The other telco is only offering 24 months contract where as Maxis offers a 12 months contract. 24 months contract for a phone is certainly quite long.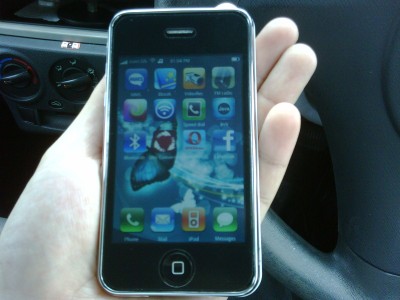 Fake iPhone. If I have not seen an iPhone before, I would definitely think its an iPhone.
I was told that an iPhone user consume an average of less than 200mb per month. Unless you are a heavy user like me, 1 gig of transfer a month is sufficient. 5gigs of transfer is a little bit too much. I don't know anyone who has used 5gigs of data a month.
However, the other telco's new plan is that they will be "no bill shock" if their users overuses their data quota on their network to surf while overseas. This is quite good especially when I had on 3 occasions came home with a RM1000++ bill for using the internet while overseas. Thank god it was under company expense. Notwithstanding the attractive plan, after reading the other telco's website, I found that the no "bill shock" plan is limited to certain countries and telcos in those countries.
Maxis has 100% High Speed Packet Access (HSPA) (basically the connection you use to go online) + coverage in Klang Valley and Penang and extensive HSPA coverage in major towns (e.g. Penang, Ipoh and JB). This is an important factor. If your network connection is slow, surfing would be painful and you won't able to utilize your high data quota.
Overall, there the other telco's plan seems cheaper but it does has its drawbacks. It doesn't give a lot of free minutes and free local calls and SMS between family lines and more minutes.
Choose wisely! 😀