I met up with friends for dinner/supper at Mosin in TTDI the other night. I've seen its branches around, but that night was my first visit to one.

Check out the name of the restaurant engraved on all its chairs!
The crowd began to arrive at 9pm, the tv wasn't on and food was abundant. My friend recommended the mumtaj naan, describing it as a mini pizza.
You know me and my quest for the best naan(s) around town …. ;P
I was desperate for something cheesy, so I ordered it.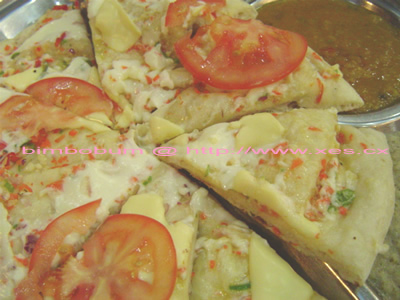 With sprinkles of grinded or shredded green and red chillis, there was a slight hotness to it and together with the generous serving of cheese, it was good.
Someone had the nasi lemak which looked alright.
They have a branch behind the old Lim Kok Wing Institute, near William's where frank_omatic visited often. Hehe. Stalk him there!
Speaking of William's, their latest popular dish is the seafood fried rice topped with deep fried baby crab at RM12. The portion is HUGE!
Mamak Restaurants are really on a Malaysia Boleh roll, even Devi's Corner and Spicy Kitchen have branches everywhere!