Few days ago, a client called me and said, "I didn't know you're a blogger! Saw you in a magazine!".
-______-
I wouldn't be so embarrassed if it was not a feature in Faces magazine as Malaysia's Top 10 Hottest Bloggers.
My picture was shot at the bridge of G Tower. It was a small bar with great view of the city.
Before my shoot, I was interviewed and thereafter had make up put on me. My make up artist made me cry. I couldn't stand having powder in my eyes!
Then I had hairspray all over my hair. I felt like Rosmah.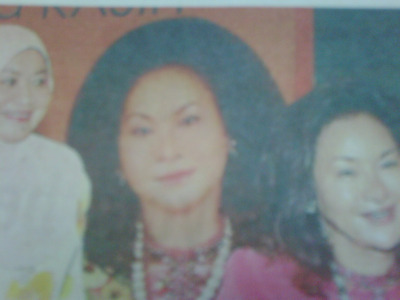 Rosmah's Epic Hairstyle. Heh. Bad photoshop.
After hundred over shots of the same pose, we were done. I was the last person to be shot.
Tada! The end results.
There's a picture of me in Alliance Bank You:nique credit card too!

The other 9 fellow bloggers are as follows:

No 1 Hottest Blogger in Malaysia, Niki Cheong & Ming

Tziaa & me

There are also small blurbs on what are their unusual reader reaction and most interesting post. Mine was this:

I couldn't think what is my most interesting post hence I merely gave an example of an interesting post I posted (at the time of the interview). Didn't know it will become THE most interesting post.
As for most unusual reader comment, some of my old readers would remember the commenter iloveu. You can read the post here. Man, I miss those good old days where my readers were interactive.

This is Hanis' blurb on Most unusual reader reaction. Happened to me once.

Kimberlycun's one is EPIC!! HAHAH
Lastly… a page on "What are the perks of being a blogger".

Thanks to Nuffnang for nominating me!