2010 went by like a breeze. I must say it has been a good year overall – although there had been some downs. Work was enjoyable, got promoted, parents are well, A and I hit our 3 years mark, got featured in newspapers and media and so on.
I read from somewhere that one should always look back on what has been achieved throughout the year and vow to achieve better next year. It is also good to reminisce the good and bad times in a year.
Here's a summary of it. Click on the links for the full story 😀
In January, I got featured in Astro B.yond TVC together with other fellow bloggers.

Looolllinnnggg
In the same month, my 2nd article on Putik Lada was featured in The Star. I wrote about Social Media and Law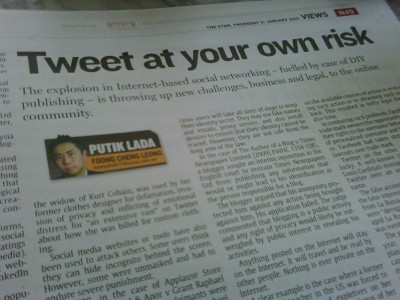 The entry was retweeted many times and got me a cool 400 page view! I'll be writing another article on Putik Lada again in January – stay tuned!
April wasn't a good month as I had a streak of bad luck. It started off with a RM100 parking fine. Then Mum had an accident, my car broke down in Court and got towed, tyre was punctured and petrol leaked from my car thereafter!
But the month of April was an eye opener. Jamie Toh broke "the world record" by finishing 10 sticks of raw siham cockles.

PURE RAW COCKLES SOAKED IN BLOOD!
May marks the death of my brother in law. May his soul rest in peace.
On the same month, I travelled to Boston to attend the International Trade Mark Association conference. In the meantime, I stopped by New York City.
I met up with Timothy Tiah and fourfeetnine there as well.
You can read all my entries on NYC and Boston here.
June sparked my interest in Data Protection. I was featured in The Star newspaper in an article entitled Keeping it Private.
It spearheaded me in this data protection field and got invited by various organisations to talk about the impending Personal Data Protection Act 2010. I did probably around 15 talks on this topic alone. Work started trickling in after all these talks.
Data protection wasn't the only topic I spoke about. I spoke about social media as a panelist in the Asian Blogger & Social Media Conference with other fellow bloggers fehmes Niki Cheong, Kenny Sia and KinkyBlueFairy.
Right after the conference, I was featured in The Star newspaper in the article "Tweet below the law"
September is the month where civilians p4wned a robber. The security guards at my area caught a robber and got the robber's picture published in a leaflet!
In November, I was featured in Klue magazine as one of Malaysia's Top Ten Hottest Bloggers.
It was embarrassing -___-
Later in that month, the KL Bar IT Committee organised the IT Law Forum @ KDU College of Law and Business on 12.11.2010. Organising it wasn't easy. We had so many twists and turns.
In the end, it went well!
December was an entry busy month for me. Although I took the entire month off to clear my leave, I had to go to the office everyday. Gah.
Anyway, I look forward to 2011. Happy New Year everyone!!! Have a great year ahead!