My climbing kakis and I made a trip down to the newly opened Mad Monkeyz climbing gym. This gym is located at Section 2, Wangsa Maju, far away from where I stay.
Going there wasn't an easy task for me as I have not been to Wangsa Maju. However, thanks to Google Map which I installed on my Blackberry, I got there without getting lost!
The gym is located in a 3 storeys shop. It covers the 2nd floor and 3rd floor of the shop.
When we were there, the 2nd floor was still under construction. I was told that the 2nd floor will be used to house the climbing gears shop and also the beginner's wall.
The 3rd floor is where the advance bouldering walls are located. The entire place (except locker area) was covered with wooden planks and handholds. Unlike Camp 5's walls, the wooden planks are smooth and doesn't leave you with scratch marks if you scrape yourself on the walls.

ssoooo small!


Toilet hidden behind the walls
The entire 3rd floor (except the locker area) was covered with thick mattresses to cushion falling climbers. There are a number of good places to sleep too!

A real monkeyz in action
The overall ambiance of the place was extremely good. It was very cozy. We could sleep anywhere we want. There were many climbers from our Summit Climbing Gym days.

Home made Monkey chalk bag.
If you had been to Camp 5 for long, you will notice that the place has many rules and regulations to follow e.g no shouting, no sleeping, no fapping. But here in Mad Monkeyz, we could do whatever activities we want to do. For example, playing our all time favourite card game. Loser had to do 10 chin ups, 10 pushups and 10 sit ups.

Since the gym is located in a shop lot, there are a lot of places to eat around its vicinity. For example, Bangi Kopitiam.

The gym will be bringing in some Red Chillis rock climbing shoes.

Packed during the evening!
The gym will be officially launched on 30 April. The entrance fee and membership are probably the cheapest in town!
Location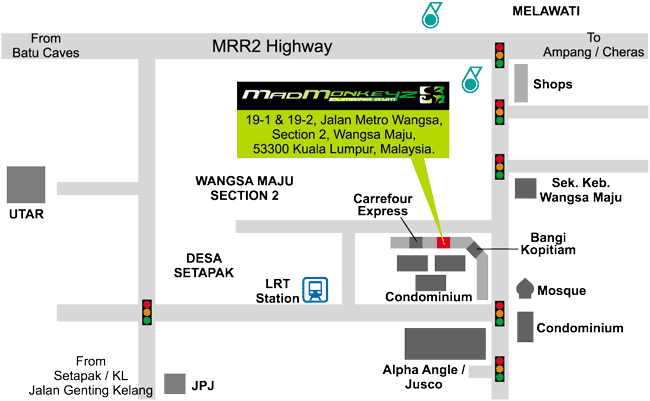 Click for larger image

Wikimapia map
19-1 & 19-2, Jalan Metro Wangsa,
Section 2, Wangsa Maju,
53300 Kuala Lumpur, Malaysia.
Telephone: 603.4142 0698
Facsimile: 603.4142 0697
Opening Hours: Mondays to Fridays 2pm to 11pm.
Saturday & Sunday 10am to 7pm.
Website: http://www.madmonkeyzclimbing.com