The venue


The Food


The Gang
Most of the participants were young members of the Sheffield University Alumni.
It was great catching up with old classmates such as Chuo Ming, Jon, Janet, Mitchie, Cynthia, Su San, Aik Keong, Alex Ng, Allen, Siew Lee, Lee Chin, Janet, and many others. Also, of course, Sam who just came back from UK. The gang didn't change much, they were the same old people I met in Sheffield University 5 years back.
I was expecting huge ballroom with tables and chairs provided and people divided according to tables. However, it was a lounge party where people get to mingle around freely.
I had a chat with Peter Fleming, the Vice Chancellor of Sheffield Uni.
Me: I kinda miss our Sheffield University email. I wish I could use it again .
Peter: That is a good idea. I should bring this up to the committee!
Then a friend proceeded to talk about how the email benefited her. I added
"On a sentimental part, it would be great if I could use the email and use it to keep in contact with those former students of Sheffield University"
Peter: GREAT GREAT IDEA (and gave me two thumbs up!)
He even said that I'll be the first person to get my old Sheffield uni email!
3 weeks later… no news about the email till now. doh!

Short speech 😀 They showed pictures of Sheffield. Made me feel nostalgic.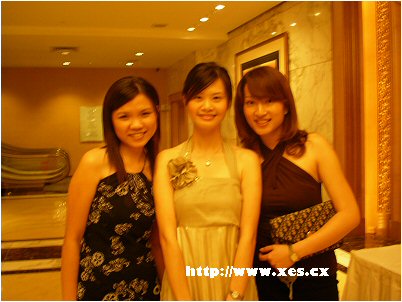 Michelle, Su San & BA Janet


Old pals from Sheffield


Me, Long lost guestblogger & housemate Siew Lee & photographer of the night Chern (he's not from Sheffield though)


Aik Keong & Sam
After taking the photo…
Aik Keong: wahhh Sam you damn small size weiii hehe
Sam: \(*o*)/!!! *executes Chun Li helicopter kick* bishbishbish


Quotes Sam, "I look so hiao (slutty) in the photo".


Ahhh.. those were the days..
4 years ago..


Cant wait for the next one! 😀