Hello people!
I'm in JFK airport now waiting for my flight to Boston. I'll be attending the yearly International Trade Mark Assocation there. It will last about 5 days.
There's free wifi here and its very fast. There's also a booth for people to plug in their laptop and order food and drinks through a touch screen monitor. Damn hightech!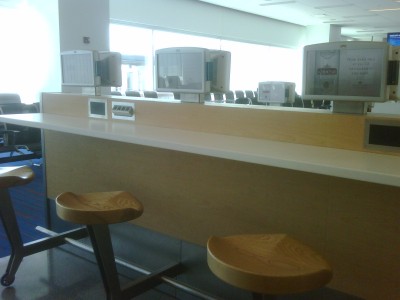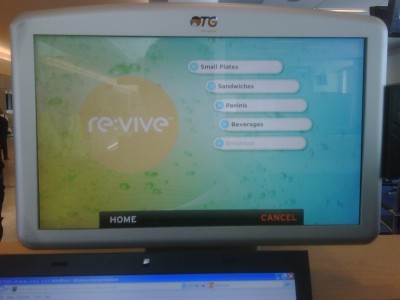 Finally my 4-day trip in New York City has finally come to an end. Jet lag didn't kill me but it had sort of improved my sleeping habit. I've been waking up at 6am here everyday – a task which is impossible for me in Kuala Lumpur.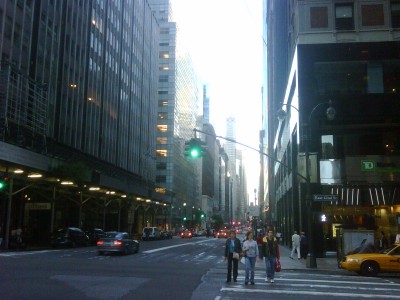 Madison Avenue
The weather had been pretty inconsistent. Sometimes hot and sometimes extremely cold. I didn't have a thick jacket when the temperature dipped to 11 degrees celcius. It was raining too! I was shivering the entire day!
I moved to my hostel in Brookyln after bunking with Timothy Tiah for a day. I booked a single room for US$40 a night but the single rooms comes with a bunk bed. The room was quite small and doesn't have a TV.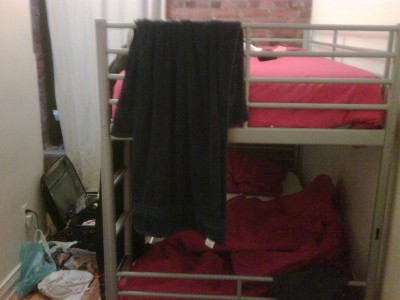 The area that I stayed seemed safe but there was once a black guy in a truck said to me, 'Damn that's a real piece of work u got there!'. I've no idea what he was talking about. :s
Also, it gets really scary at night especially when I walk to my hostel from the train station. There was once I got lost walking back at 130am. The street was empty and dark. If its not for GPS, I may be lost throughout the entire night!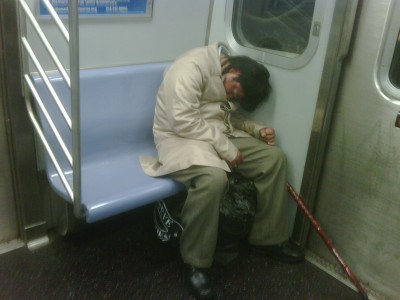 Drunk chap in the subway. I wasn't the only one snapping picture of him 😛
Food is provided by the hostel but it gets crowded in the later part of the morning. Waking up at 6am would skip the crowd.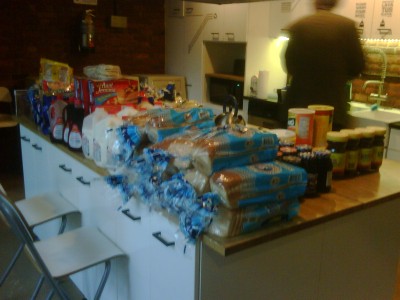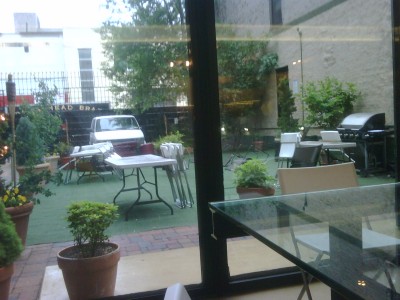 View of kitchen
The unfortunate bit about the food is that they do not serve any meat, just bread, pancakes, cereals and fruits. Too healthy for me!
So far, I visited the Statue of Liberty, Ellis Island, World Trade Centre Memorial, Empire State Building, Metropolitan Museum of Art and Woodbury Outlet Stores.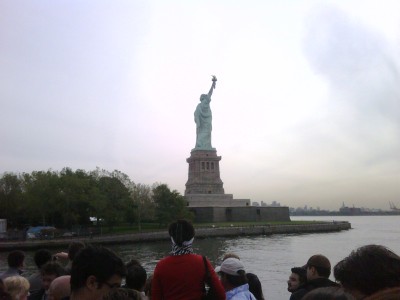 Statue of Liberty – looks smaller than I thought it would be. It looks huge in movies!
I managed to catch a play with Timothy Tiah and fourfeetnine. It was good but it would be better if I didnt fall asleep at the ending of the play. Heh
More details about this soon!
Will update in Boston if I could!