shop: Restoran Sri Gangka, on the same row as SOD (Source of Delight) and HK Express in SS2.


the garlic cheese naan. with sesame seeds on top, so cute. garlicky and cheesy taste is not that strong. and served in a basket. so cute!! ;P

we were recommended the red bean naan to try, being its most popular naan. it was nice, and need not be soaked in curry or dhal because it was sweet as it is. it reminded me of tau sar pau (red bean buns)! but good, nevertheless. RM3.50.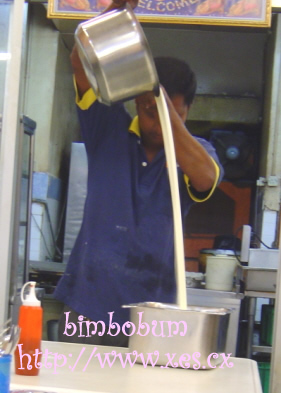 they even demonstrated that the milk is freshly squeezed from the cow and processed this way. ;P hehe.
actually, i don't know what that is. i'm assuming it's milk.


checking the coast out is clear before i make a run for it, didn't want to pay the bill.
it's a quiet shop. if you're tired of the indomie mamak area across the road, there's no harm in giving this shop a try. and they have ASTRO too.


blurry pic. this was what happened when i ran away in high heels.
of course i paid the bill la. ;pPp it's a shaky pic because i got shy, the staff were giving me strange looks for snapping too many pictures, like i was a kepohchi (busybody) escaped from the wilderness, into the city. ;P
rating: ok la. ;P didn't understand the waiter at first, we thought he said "GREATBEE NAAN".)