Ping is one of my oldest friends. We were friends since kindergarten days.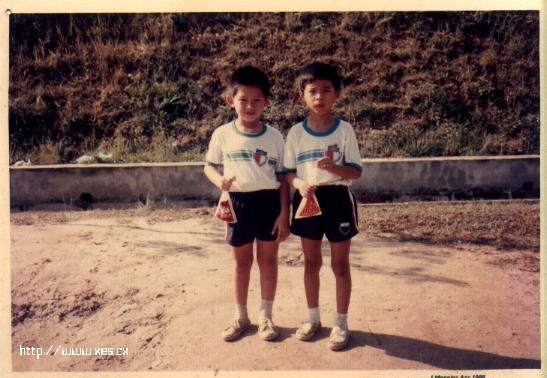 Umeng (Left) and Ping (Right) during primary school days.
After school, Ping worked as a graphic designer and then moved to sales. After years of working for people, he decided to embrace entrepreneurship and started a chee cheung fun stall with my other high school friend, Pao and Pao's father and aunt.
The stall is located at Seri Petaling morning market. I went there on their first business day.
I suggested that Ping get a few topless muscular men from Pushmore to stand in front of the stall to get attention on their first day – just like what Abercrombie and Fitch did in Singapore when they opened their first outlet.

Topless boys @ Abercrombie and Fitch, Singapore. Photo credits to MsGlitzy
But without the sexy men, the aunties were clamoring over the stall!

I ordered their curry chee cheung fun with curry pork skin and wild boar meat.
It was tasty!! Amount of wild boar meat was generous and pork skin was crunchy! All fresh cause its made on the same day. The texture of the chee cheung fun is thick unlike the usual thin ones. Overall it's yummy!

I also tried their black sauce paste chee cheung fun. It's good as well. Ideal for the morning if I don't want my stomach to be burning from curry.
Please go early in the morning otherwise the pork skin will run out. They start early morning and will close in the afternoon.
Map