The flight to Brisbane was not a pleasant one. During my flight to Singapore, I had one elderly couple omitting durian flavoured fart. While on my flight to Brisbane, I had a Japanese girl snoring throughout the whole 7 hours journey.
On my flight to Brisbane, I had a Canadian man and Japanese girl sitting next to me. We did not spoke a word throughout the journey. The Japanese girl, with her long dyed blond hair; pimples scarred face doesn't seem to know English. Wanting to try out my Japanese phrases I learn from "Japanese for tourists phrasebook", I said to her "anatawa nipon-jin desu?" Expecting a Japanese reply, she replied me with a disappointing "yes yes!" I made no more effort to talk to her anymore.
I did not sleep a wink during the journey. Singapore Airlines provided really good movies. I watched Austin Powers 2, Mr Bean, Ice Age and Spirit. By the time I finished the movies, there was 2 hours left before arrival. I decided to sleep for a while. However, after few seconds of dozing, bright lights were turned on. Frustrated, I decided not to sleep at all!
Umeng was waiting for me at the airport. We took a train back to his place at Toowong. It seems that all my friends here dyed their hair. Kiang dyed purple, Yong Lin and Jin Han dyed blonde (ah beng!), Umeng dyed dark brown, Soon Loong dyed hazel brown and Him dyed a mixture of brown and blonde. I guess I'm the only decent one left.

I followed them to University of Queensland. In my opinion, the uni is much bigger than Melbourne Uni. Even their food court is bigger! I have always wanted to go for an architecture class. Umeng and Soon Long are studying architecture. I decided to follow them for one of their classes. However, within half and hour, I dozed off.
We headed for lunch after class. The uni sells various type of food ranging from Asians to Western food. Feeling famished, I had a big piece chicken teriyaki sushi and fish and chips. We had lunch at one of the nice huge cafeteria. It was spacious, dimly lighted by the natural sunlight and clean. We spend hours talking and joking. I hadn't been laughing so much ever since!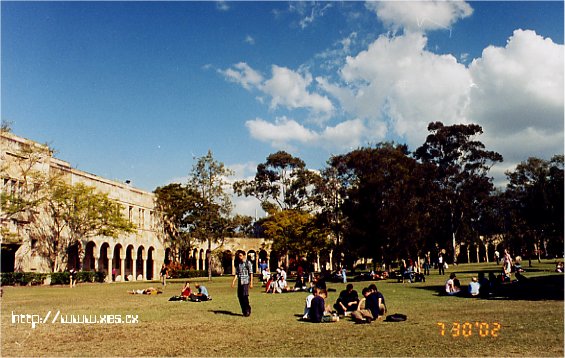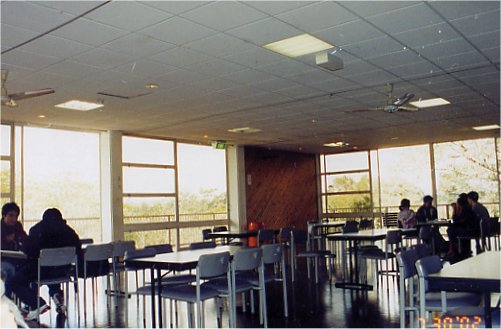 We headed for Chinatown at Brunswick next. Brisbane's Chinatown is much smaller than Melbourne's Chinatown but it has more Chinese monuments. Umeng bought some groceries before we head to Elizabeth Place in the city to meet up with Sharon aka oinkie. She told me about the places to go to. She looks better and better from the day I met her. I bet she'll grow up into a gorgeous lady in the future!
I was exhausted in the end of the day. It was as if my body is going to shut down. Thank God I took a nap when we got back home from the city. However, hours later, I woke up finding that I was completely confused, no idea where I am. I totally forgot I'm in Brisbane!
Dinner was almost ready when I woke up. Right after dinner, we watched tv, went online, played computer games etc. Damn, it's great to live in a bachelors house.
– 10:10PM