It appeared to be a peaceful routine night where i will hit my hay and call it a day in 15 minutes when all of a sudden the monitor right in front of me started to shake. I thought it was a post bad sleeping position where i just had my cat nap a couple hours ago(i wasn't feeling well that day) then it started to shake from bad to worse. For a moment there my table was swaying from left to right and my ps2 fell off the desk.I turned to Chad who was still pretty much obssesed with the game Warcraft III,
Me:Chad!Am i on crack or is it an earthquake that i feel.
Chad:It's an eartquake you dumbass
By then, Andrew was shouting and running paranoidly towards my desk
Andrew:Shit, its an earthquake isn't it?
Chad and Me:Yeah!
We ran to the front door and by then everyone from the upper floor was either screaming or had a pale face as they raced with each other down the stairs. I did what most sane people would do – RUN, but little did i know i was barefooted.


Panic stricken tenants with shorts and pyjamas outside the condo.


Someone even took the time to pack stuffs in their backpack, amazing!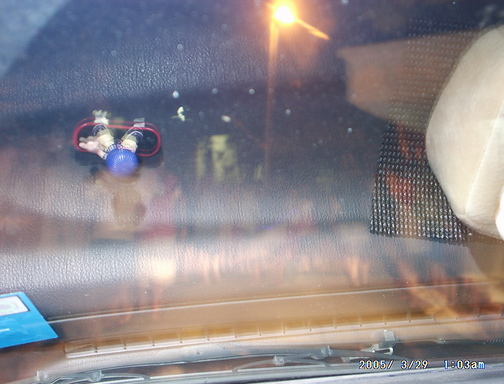 The place was so crowded that it took minutes to had our car removed from the carpark


Behold!The almighty fire truck that stormed towards our condo.


One evacuator wanted to be a policeman one day. Man:"Good efficiency! go Polis!"

By the time i was at the ground floor, the front lawn was packed with people. The Police came, The firemen came, journalist, kepohchis, almost anyone who had a reason to be there was there.
We waited for two hours before we sneaked into the condo for me to write this entry. The securities had forbiden anyone to go into their condos because reliable sources had revealed that another shake will occur sometime in the morning. We don't have the patience for that and as smart and sneaky as we were, we were caught as i'm writing this.
It occured to me that i am indeed a coward to run without my sneakers (As a matter of fact, i was the significant few who were barefooted, how embarassing)