for girls only.

i had a manicure and pedicure some weekends ago. i decided to start it off early in the morning to avoid hunting for parking spots. you know how that area is.
the place's newly refurbished, but not 100% complete.
the prices are not too bad. RM80 for both a manicure and pedicure. but if you're a member, it's RM50. they have nice fancy treatments too, like scrub and mask. ;P

spacious…. i like the floor. and the colour combination of the sofa and its cushions. imagine having a nice living room like that. woo…. can dance around like crazy! ;P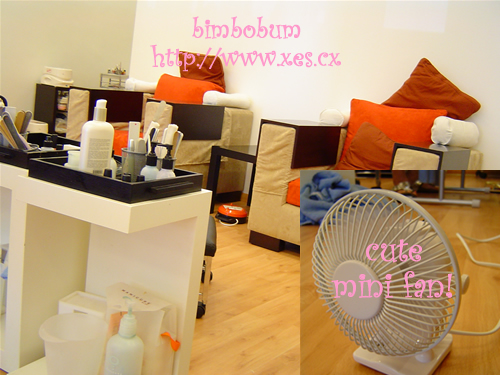 big chairs…. but the table between the chairs got in the way – kinda wide. wanted to yakkity-yak away with my friend without sounding too loud. ;P and the gossip magazines were months old too. (i like the mini fan (to dry my toes), so cute!!!!!)
but not too bad la, overall. they serve tea or coffee of your choice. the people are friendly, they're like one big happy family. i wanted some nail art on my nails, but felt a bit too poor, so i decided against it. 🙁
go try it out, if you don't want sit in cramp, small ones in shopping malls! at least you'll avoid having your elbow knocking into your neighbour's. 😉
and they do have gift vouchers too.
aaah…. the luxury of being pampered!
and now, can someone recommend me a nice spa for a nice relaxing massage (and affordable, too)?
a review on nail basics.