i like this picture!
a friend and i ate at Gin Ger Restaurant which is situated across from Kim Gary Restaurant and Only Mee (the bright orange eatery) in Hartamas Shopping Centre. It is a branched out from the one at Central Market.
"Cuisine: Asian
…. sumptuous array of Asian delights such as Nyonya Kueh Pai-Ti, Seafood Otak-Otak, Melaka Spicy Brinjal and Homemade Bean Curd. Prices reasonable, one decent dish starts at RM8." [source]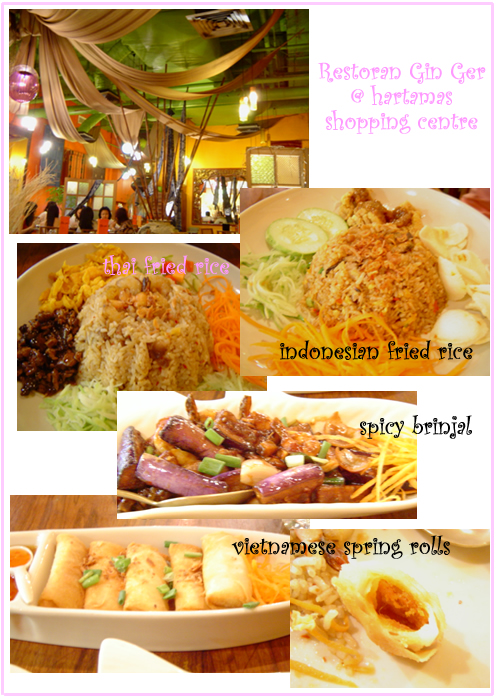 the dishes we ordered. the Thai Fried Rice was OK, and so was the Indonesian Fried Rice, which wasn't spicy enough. the small serving of Spicy Brinjal was rather generous, with some prawns in it. we were quite surprised with the Vietnamese Spring Rolls as we expected the 'real' vietnamese type with see-thru skin, if you know what i mean. peering into it, it looked like otak-otak.
the individual servings like fried rice or noodles are priced reasonably, starting from RM6.90 to RM9.90.
i think it is value for money to have a bigger group of people to dine there, then there'll be a variety of food to try. the last time i ate at its branch in Central Market, the green curry was good. i remember everything was good. ;P i'd definitely come back here to eat again, despite being unable to understand what the waiter was mumbling about (definitely not local) and they refused to accept my credit card (because the machine was spoilt. sheesh)!