Another dreary day at the office. I am lucky that I am driven to and fro from my office. Traffic in KL is sheer madness. There are cars everywhere!!! Usually, we will drive up this hill on the way to Jalan Semantan and when we reach the top of the hill, we will get the first glimpse of the heavy traffic ahead of us. I notice that my driver will press the brakes a bit and heave a deep sigh. Down the hill we go to join the bumper-to-bumper ride?
Such a cosmic difference from how it was last weekend when I weNT TO IPOH!!! w00t!!! Had the loveliest time eating all the famous Ipoh grub, visiting a cave temple, went bowling (!!), checking out the pomelo girls, and exploring an old castle.
Naturally, since we were in Ipoh, eating the chicken and taugeh (beansprouts) Hor Fun was a must and I know of one chick 😉 who had 5 bowls of it in the 24 hours that we were there. We probably had the best Hor Fun in town at Cowan Street ? 1 and a half chickens, 2 big plates of taugeh and 15 bowls of Hor Fun. We went to Old Town for its famous white coffee with toast, fried lo bak kou (radish? carrot cake?), eggtarts, tai kou meen (crepes with peanuts, brown sugar and corn) and arguably the best char kuay teow I have ever taken in my life. And I have taken helluva lot of char kuay teow in my lifetime. Just thinking of it? ooo!! Here?s a group photo of us with me eating the delectable char kuay teow:
For supper, we went to some roadside stalls to try Ho Hee (some noodle meal with all sorts of fishballs and meatballs) which supposedly, can only be found in Ipoh. I had the Wan Tan Mee, which was only so-so ? I have been told that KL has the best Wan Tan Mee, surprised to know that KL was famous for anything since I thought what we ate here was an amalgamation of all the good food beyond KL.
The next morning, Meng and I didn?t bother waking up at 7am for the dim sum but we made up for it by going to the 'H0use of Mirr0rs' after a few more hours of shut-eye. And yeah, at first I thought that the ?H0use of Mirr0rs? was some tourist slaughterhouse with some funky exorbitantly priced desserts that they pull off as ?Asian?. But it was really these two old coffee shops that have the best selection of Ipoh food that has been around since tens of years ago. I dunno how it got that somewhat glamorous name along the way but the only indication of mirrors there were the coffee shop-style of mirrors hanging above us along one side of the wall. We had Sar Hor Fun (this one has prawn broth in it together with the chicken broth), Satay and Caramel Custard. Here?s another group photo taken before we left the hotel to the mirror place, all tired faces coz some woke up at an ungodly hour for dim sum while some are just habitually sleepy in general: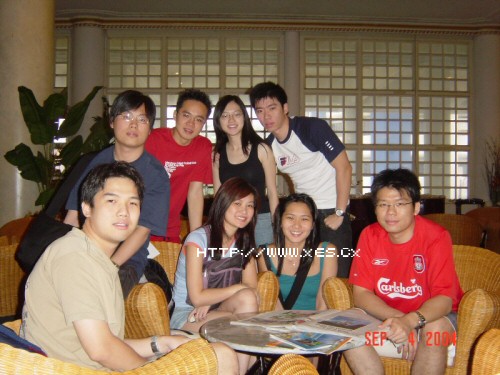 We went to Kek Lok Thong; a temple nestled in a cave, which was simply breathtaking. I have been there so many times, and still found the rock formations, stalactites and stalagmites so amazing. It was very windy too the day we were there. It sounded like an earthquake when we watched the footage captured there in YY's video cam. Here?s a picture taken at the entrance, inside is pretty dark so you guys probably can?t make out the rock formations much:
Then before we left, the guys decided to check out the pomelo girls. Our three cars drove by the pomelo stalls, which automatically attracted all the girls to stand in front, almost military-like. Then somehow JP felt guilty and bought a pomelo for RM10. Slaughtered!!
We decided to make a trip to Kellie?s Castle ? it ain?t free anymore!! Cost us RM5 to see some castle ruins and some caged peacocks. But it wasn?t so bad coz they refurbished it by painting some of the walls, fixed railings and ceilings. We managed to climb the narrow stairs all the way up to the 6th storey where there was a platform. Really high, windy and no railings! Pretty dangerous, I must say. And here?s a picture taken with JP and Meng on the platform, where we could see the almost the whole of Batu Gajah around us – its so high up, we felt kinda woozy:
Oh before I forget, let me tell you guys about the highlight of the trip ? no names mentioned for obvious reasons and to those who already know ? LAUGH along with me! 😉 OK, so it was 5am in sleepy Ipoh when A was dreaming that he was in a fight. Oh man, was he working out the moves – the legs akimbo and clenched fists ready to strike. It was the fight of the century, for the good of all mankind. The crowds were cheering, the adrenalin was pumping, it all felt so real. So he threw THE killer punch. The solid one. The one that would bring down his challenger in the dream.
His girl sleeping next to him then woke up yelling.
He actually threw a punch at his girl?s face, you see.
And man, was that one helluva punch! And haha, he only woke up coz his hand was in pain!! 😀
Ok-lah, enough for today, probably not enough to make up for the last few months but I am sure after the 5th paragraph or so, your eyes are gonna start to glaze over. 😉 *waves 😀